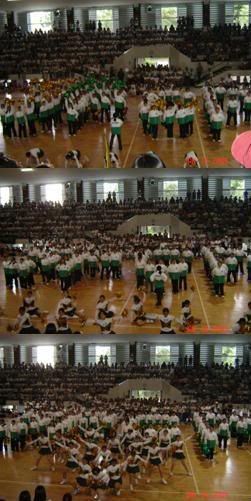 "Pick up the beat, pick up the beat, bring in the heat, S-P-C-P!"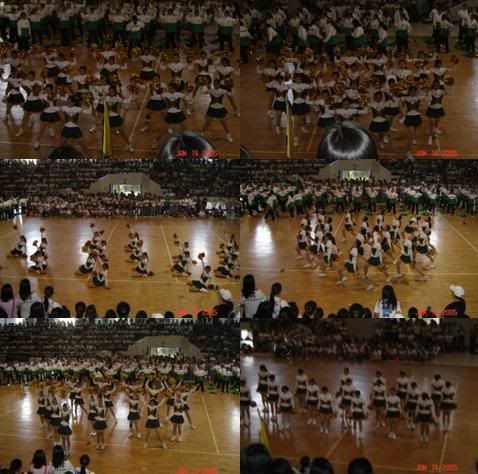 "S-T-P-A-U-L, say, what?"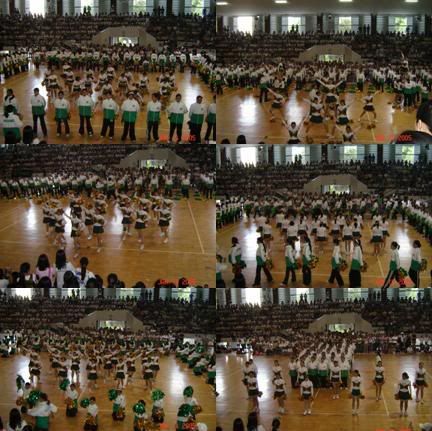 "Hoo, hah, hoo, hahahah, Full Force!"
Yep, they performed. They sooooo rock! Hahaha. Looks nice sa pic pero iba parin yung real thing. Hehe.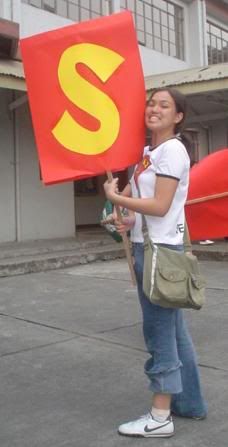 Mon, our mighty, mighty BatchRep with the mighty, mighty Seniors banner.
Source:Minnie's blog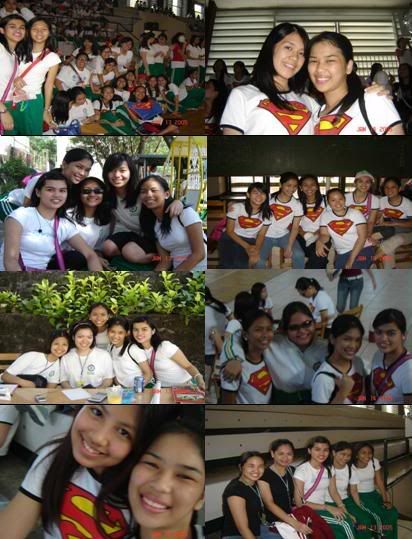 1. Batchmates, cheering for the Volleyball team.
2. Me and my B*tchmate, Kiara.
3. Me, Gege, Ass, Krista, Kam.
4. Nona, Me, Kam, Madz, Ass, Kat.
5. Maggie, Ingga, Kam, Me, Ass.
6. Kam, Tans, Me, Ass.
7. Me and Maggie.
8. Aprille, Charmie, Ass, Me, Kam.
Okay. So what really happened nung intrams? Mahirap i-explain lahat-lahat e. Ito na lang. We won gold in every sport in the intrams except Track and Field and Badminton and Volleyball. Grrrrr. Maya na ang explanation ng
"Grrrrr"
na yan. We won lots of silvers and bronzes in Track and Field. We got a silver medal sa Volleyball. Grrrr ulit. Sophies won the Gold in the Volleyball tournament.
Okay. Ito na yung
"Grrrrr"
. The standing of both the Seniors and the Sophies sa volleyball is 2-1. Freshmen and Juniors, 1-2. Seniors, Freshmen and Juniors teams appealed for a rematch, since tie nga yung standings. Every team captain of the said batches signed the agreement. The Sophomores did not. Gold na kasi yun. Everyone thought it was unfair. Siyempre, kung deserving talaga sila nung gold, papayag sila ng rematch, to prove themselves. E ayun, hindi pumayag. Soooo unfair. Nung umakyat sa stage yung Sophomores team to receive their medals, the Freshmen and the Juniors joined the Seniors in chanting
"Seniors"
. Hahaha. Kodak moment. Di namin inakala. Hahaha. Ang pinaka-Kodak moment was when our players started congratulating their team. Hahaha. Lahat ng tao shocked. Even the Sophomores. Hahaha. Kasi naman, ang unfair na, yun, ni-hug parin nila. Yesssss, batchmates talaga namin! Woooh! Hahaha.
Anyway, there was an exhibition game in volleyball between the varsity and the faculty members. Can I just say na sobrang benta ni Sir Macky? Hahaha. Wala lang. Ang oti. Everytime the balls comes his way, all his teammates turns their back on him. LITERALLY, of course. Hahaha. Kasi naman, hari ng sablay, siya, mehn! Haha. Sir Omer, the best! Ang cute maglaro! Woot! Hindi pa dumadating ang bola sa side nila, nakatalon na para mag-block. Hahaha. And lagi siyang nagso-somersault sa parquet. Akala mo swimming yung laro e. Hahaha. In all fairness, marunong maglaro si Sir Velarde. Galing! Hahaha. Kaso feeling ko nadama nila ni Sir Joel ang paglalaro dahil everyone were cheering for them. Lumaki ulo. Hahaha. Sayang, I don't have pics. Ang gulo kasi nila e. Rarr. Hehe.
I dint watch Swimming 'cause I lost hope nung andun kami ni Kam. Ayun pala, gold parin makukuha namin dun. E kasi, yung pinanood namin, sablay talaga. No names na lang. Hehe. Pero sablay talaga. And everyone were shouting at her nung malapit siya dun sa side ng Seniors na
"Hoy, bilisan mo naman, natatalo na tayo!"
or something like that. Hahaha. Wala lang. Sama nga e. Rarr. So there.
Badminton, I dint get to watch it too. I was watching/cheering for the volleyball team that time. Sabi ng mga sources, the Freshmen-Seniors game was 15-0, respectively. Waw. Kahiya! Hahaha. Pero okay lang. The Freshmen have this great badminton player. Pambato nila. Hehe.
Uhm, what else? Ah, yeah! Softball. Okay. Tanga ako sa game na yan, wala akong alam kung ano man yung
"top"
at
"inning"
, but I really enjoy watching it. Kahit mainit. Hahaha. Team ng Seniors, mga gwapings! Hahaha. Jologs.
"Gwapings"
. During one of the games, when Janella (
"heartthrob"
sa batch, both girls and guys.) was in the 3rd base, somebody from the audience shouted
"Take me home, Janella!"
. Putek, kahiya siya. I won't mention kung anong batch but it sure wasn't our batchmate. Walang magri-risk ng kahihiyan nila no. Kung meron man may like sa kanya, sa sarili na lang niya sasabihin yun, hindi na lantaran. (I know, I know it's immoral. All-girls e. Hahaha.) Isa pa. Na-injure si Janella, lahat ng players ng Sophies lumapit, kunwari tutulong.
CHANCING!
Hahaha.
Table Tennis, di ko napanood but we bagged gold. Same is true with lawn tennis and chess. Track and Field, may isang gold and maraming injured. Hahaha. Connect?
Okay. The highlight of the intrams. Nung ia-announce na yung over-all Champs. Okay. The Freshmen bagged 20 golds. And the over-all champs depends on the number of gold medals acquired of each batch. Mrs. Kupang, after a long, excruciating talk on what sportsmanship is all about, announced that the Freshmen are the 1st runners-up. Kam, Maggie, Ass, Dean and I were all tensed. Kasi naman, kung sila 1st runner-up with 20 GOLD COUNTS, sino na yung champs? Ang onti kasi nung narinig namin na gold ng Seniors. Kapit-kapit kaming lahat, si Dean niyakap pa legs ko. Hahaha.
*drumroll*
Mrs. Kupang said that the Champs garnered 29 GOLD COUNTS. Sino yun?
SENIORS!
I sooooo love my batch. =D