Yep. And that means part-ey all night! Wuhoo!
Anyway, was at Metrowalk last night for that Oktoberfest thing with Aprille and can I just say that the place was freakin' crowded? Pucha, kahit san ka magpunta, may tao. Duh. Kami ni Aprille madalas nagkakabitaw dahil sa bangga ng mga tao. Hehe. Pero ok lang. Tried to get a better view of the stage but to no avail. Tried to get our free beer but failed. Pucha! Lahat na lang!
Walked to St. Francis Square to grab dinner and to bond. Yeah. Got to know Aprille a hella lot last night and...well...she knew stuff about me and...uhm...basta! Samin na lang yun. Though alam kong gets ako ni Kam. Hahaha. Oti.
Went back to Metrowalk but, after realizing na mahirap nang bumalik sa loob, decided to go to Aruba. Watched this group. I forgot what they're called. Sobrang galing, men! May potential! Exaj. Well, yeah, they sing retro stuff but hey! They can really sing. Even made the place dance! Hahaha.
Aprille: Diba siya yung sa commercial ng Coke? *points to the dude singing with the band onstage*
Ale: Ay, oo nga! Si Franco Mabanta!
Aprille: Si Jasper!
Aprille and I were convinced na we wanted to get a picture taken with him. Hahaha. Pero yun. Pag minalas ka nga naman. Haha. Well, he's cuter now than when I saw him in Aka Fellas' concert in Forum last year. Haha. And his girl's pretty. As in pretty talaga. Haiii. Sweet nga e. The band dedicated the song If I Ain't Got You sa kanilang dalawa. Guess it's their song. Haha. Sweet. Awww. Hehe. Oti ko nanaman.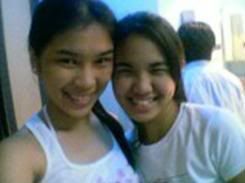 M.O.M.s (Moving On Mates) Ale and Aprille
Okay. Ngayon ko lang na-realize na sobrang ang tanga ko pala. Well, ngayon ko lang naman nalaman yung totoo so ngayon ko rin lang nalaman na ang tagal ko na palang nagpapakatanga. Pucha. Sana, diba, sinabi na lang yung totoo kesa kung anu-ano pa yung sinasabi. Andami pang pasikut-sikot, di na lang sabihin na ganun pala. Tapos ngayon, ganun. Aba! Tama yan. (No, it's not Jopet. Thoughts lang yan. Haha.
"Thoughts lang"
? Whatta lame excuse.)
WE ALL FAIL AND MAKE WRONG DECISIONS BUT OUR BLUNDERS ARE NOT MEANT TO BURY US DEEP IN MISERY BUT TO TEACH US THE VALUED LESSONS IN LIFE.

IT'S OKAY TO CRY AS HARD AND AS LONG AS YOU WANT TO; JUST MAKE SURE THAT WHEN YOU STOP CRYING, YOU WON'T CRY FOR THE SAME REASON ANYMORE.
I'm going to take the DLSU Test tomorrow. Shet. I hope I pass. I soooo want to be an Archer though alam kong ayaw yun ng iba or they see La Salle as their last resort, kumbaga. Laln. Gusto ko dun e. Haha. Laln.
*Goodluck, Ale!*
*Soulmate, my ultimate news on Monday. Sinasabi ko sayo ngayon pa lang na hindi ka maniniwala sa maririnig mo.
*M.O.M., thanks talaga last night! Sobrang saya! Kaso walang inuman e. Hehe. Laln. So, ano? After ng exams sa 9, Southborder? Hehe. Go! Laln. Tuloy yun ha. Hehehe.