(Sorry sa hindi ko mase-special mention...)
Batallones, Henrik
- Niko, alam kong medyo hindi tayo nagkakasundo sa mga bagay. You really annoy me at times. Pero bilib din naman ako sa'yo, super responsible mo. Uh, you should know kung kelan mo ititigil yung pagka-hyper mo. Yun lang siguro. And don't think na wala kang karamay sa buhay mo. You have 39 friends na siguradong tutulungan ka. That's us. Kaya cheer up, okay?
Beredo, Kizia
- Kizia, alam ko na we din't really have the time to actually talk pero that one time you helped me with my problem, the time I opened up to you? Thanks for listening. Ang ganda pa ng advice mo sakin nun. Thanks talaga.
Chew, Leslie
- Baby Boo, thanks sa mga mp3 ng flashdisk mo at sa camera mong nanjan lagi pag may events. Hahaha. Joke. Wag ka masyadong nagdo-droga, anak. Iba ka pag ma-hyper e. Hahaha. Anyway, thanks for everything, Les. Ewan ko kung nag-thank you ako sa'yo sa dami ng ginawa mo for me.
Cruz, Ru Angeli
- Jillie! Mahal ko talaga pink hair mo! Wahoop! Pero mas mahal kita. Hehehe. Ang saya nung gig mo. Sana pag sikat ka na, invite mo kami sa ga gig mo. Libre dapat yung entrance. Hahaha. Anyways, thanks for making me laugh with that dance of yours. Hehehe. You don't know kung ganu kalaking tulong sakin nun.
Cuyegkeng, Jonathan
- CUYEGS! Hai nako. Hinihintay ko na lang yung panahon na sasapakin mo ako and tell me
"I told you"
. At pag sinapak mo ako, wala akong gagawin kasi tama ka naman. Hai. Do you know na I hate it when you're correct? I mean, sa mga pinagsasasabi mo sakin. Mga words of wisdom mo and all. Wala lang. Hahaha. So anyway, alam kong medyo okay na buhay mo ngayon kasi medyo matagal na hindi ka emodes. Pero seryoso sinabi ko sa'yo before about jan sa pagiging emodes mo. Isang ulit pa, tablahan na ito! Thanks sa mga advice mo, KUYA. Hehehe.
del Mundo, Romeo
- Jino, thanks for everything. It was such a short time pero naging comfortable ako sa'yo ng sobra. Dati nakakausap lang kita kasi magka-partner tayo nung Culminating Activity sa PE. Basta, thanks for ALWAYS being there. I don't know how you do it. Wala na akong angal dun, basta thanks.
Emata, Ian Cezar
- Ian, I know na medyo nagkalayo tayo this second term. Pero I want to thank you for listening to me. And thanks for sharing me your thoughts sa mga bagay-bagay.
Gumapas, Patricia
- Trace, you've affected way too much people. I want to help you. We want to help you. Pero walang mangyayari if you yourself don't want to help yourself.
Malicsi, Regine
- Darna, thanks for everything. I know you've trusted me with things na you usually don't share with anyone else. You're strong and I admire you for that. Thanks for everything.
Manga, Miguel
- You're the big brother I never had. Thank you for the countless times you've been there for me. I know I'm such a brat when it comes to some things pero ayan, nagtitiyaga ka parin. I guess I really am your little sister. Hehehe. Thanks so much, Nico.
Montino, Lauren
- Babes, you're my hero. Minsan, naiisip ko, kambal ata kita. You're ALWAYS there for me. Alam ko nagsasawa ka nang makinig sa mga hinaing ko but you're still there. I can't thank you enough, sobra. You make me laugh even when I'm really down. I don't know how you do it pero ayun, napapatawa mo parin ako. Thank you so much, Babes.
Prado, Diana
- Alam ko wala talaga tayong matinong usapan, Dhi. Pero your hugs are enough. Thanks, Tomato.
Ramos, Sara
- Thank you for everything. Kantahan mo lang ako nagiging okay na ako. Love your voice, sobra. Thanks sa laughtrips. I know you're always willing to help. Thanks talaga, Sara.
Reyes, Corina
- Cor, magka-batch tayo sa St. Paul for 4 years and dahil high profile (hehe) ka dun, hindi ko na-imagine na magiging close tayo. Thanks for listening to me. And thanks for trusting me with your thoughts.
Samaniego, Jermaine
- Ja, sorry pero napapatawa mo ako sa mga ibang moments mo sa kabarukan lalo na pag ginatungan ni Cuyegs. Hehehe. Grabe, hardcore Bamboo fanatic ka talaga. Natuwa ako nung sinamahan mo ako sa mga LSS days ko sa Hallelujah. Hehehe. Thanks for the soundtrips. Thanks for everything.
Uy, Jacqueline
- Jack, you made that escape of mine possible. Remember? Hehehe. Thanks for that. Uh, hindi na kita masyadong nakikita ngayon. Namimiss na kita, what more pag hindi na tayo blockmates? Jack, thanks for everything talaga.
Viardo, Malia
- Super Pepe! There are times na pag binabasa ko blog mo, feeling ko naiintindihan mo ako. Kaya I read your blog a lot. And thanks for the joketimes. Sobrang hindi ko makakalimutan yun. Thanks.
BONOSOC!
Thank you for everything. Sobrang saya niyong kasama. I know that you'll be there pag kailangan ng karamay. I'm so thankful that I became a part of you guys. I never thought that such great friends exist. Tambay parin tayo sa Yuchengx, Tairs at Amphi, ha? Mahal ko kayong lahat, sobra.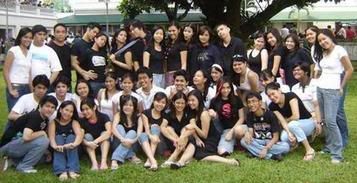 "But if destiny decided I should look the other way, then the world would never know the greatest story every told..."

Magka-kanya-kanya na tayo ng landas. LR19, di ko kayo makakalimutan...